---
---
According to The Week magazine, December 16, 2016, "Google plans to rely entirely on
renewable energy like wind and solar next year to run its global data centers." We support Google's
initiative and hope other companies follow suit.
---
---
Solar Roadways is a company founded by Scott Brusaw, promoting his idea to place solar panels directly
onto roads. Here's a video to learn more:
---
---
Good News!
The following is an excerpt from The Week magazine, November 11, 2016 issue, page 9.
Dozens of countries, including the U.S. and Russia, reached a historic agreement last week to create
the world's largest marine protected area near Antarctica. The 600,000 square mile Ross Sea
sanctuary covers 12 percent of the Southern Ocean ... Secretary of State John Kerry said the
agreement "will safeguard one of the last unspoiled ocean wilderness areas on the planet -
home to unparalleled marine biodiversity and thriving communities of penguins, seals, whales,
seabirds, and fish."
---
---
Photo: Marush Conner
CitiBike started in Paris. Here is the next great rental idea: electric cars that
can be recharged at various places in the city.
Photo: Marush Conner
---
---
For interesting facts about our highway system, watch "An
American Interstate System for the Solar Age":
http://www.youtube.com/watch?v=3JE5OmnPkZQ
---
---
New Solar Lanterns
There are new solar lanterns that require no bulbs or batteries to use at nighttime.
Check out the great new styles of ecofriendl
y
solar lighting here:
---
---
New Solar Charger Is an Energy and Fitness Source
The following article appeared in The Week magazine, "Innovation of the Week" section,
page 21, January 17, 2014 issue.
There is no shortage of interesting, green-friendly ways to charge your cellphone, starting with
solar chargers. ... Uncharted Play's Pulse energy-harnessing jump rope works by transforming
kinetic energy into usable electricity. A few minutes of skipping rope will generate a few hours of power
that's stored in the handles and is transferred with an adapter to run cellphones, lights, and other gadgets.
---
---
Pope Francis Is An Environmentalist
The following article "Next Up for Pope Francis: Anti-Fracking Activist?" by Kiley Kroh,
was posted on the thinkprogress.org website on November 14, 2013.
Pope Francis created quite a stir this week after he posed for photographs holding up anti-fracking
t-shirts following a meeting with a group of Argentinian environmental activists to discuss water
and fracking issues. The shirts read "No To Fracking" and "Water Is More Precious Than Gold."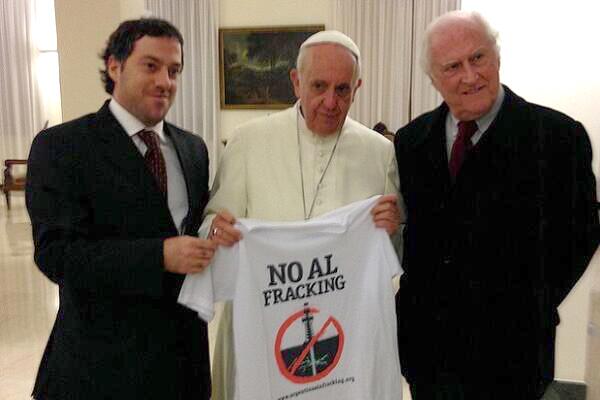 The Pope has already garnered headlines of late for his progressive views on

inequality
and his

view

that the Catholic Church has been "obsessed" with certain social issues like abortion,
birth control, and gay marriage. Now many are wondering if environmentalism will be next.
Pope Francis reportedly told the Argentinian group "he is preparing an encyclical —
a letter addressing
a part of
Catholic doctrine —
about nature, humans, and environmental pollution," Foreign Policy

reported

.
Among those who met with His Holiness this week is movie director and Argentine politician Fernando
Pino' Solanas, known for his environmental activism and his film "Dirty Gold" about mega-mining.
According to Foreign Policy, Solanas is a vocal opponent of an August agreement between
the Argentine government and Chevron to develop shale oil and gas, which he calls "the
largest environmental disaster in the Amazon."
Drilling for shale oil and gas often requires the controversial practice of hydraulic fracturing,
or fracking,
which has generated serious concern in communities around the world for the
threat it poses to water supplies.
In Argentina, the anti-fracking protests "have grown so fierce that the police have cracked
down on thousands of demonstrators
with tear gas and rubber bullets," the New York Times

reported

.
According to one report from the Pope's meeting with activists this week, his "concern was
'clear' when hearing about the
Chevron deal in Argentina and other environmental disputes in the region."
---
---
New invention could transform energy industry
Japanese inventor Akinori Ito has invented a machine that converts plastic into oil
Watch the amazing video here: http://www.flixxy.com/convert-plastic-to-oil.htm
---
---
Solar-powered LED lamps are a new lighting source
for
people in developing countries
This innovation will help to replace the toxic effects of kerosene. Read more about it here:
http://www.cnn.com/2012/01/10/tech/innovation/solar-powered-led-lamps/
---
---
Conservation is not exclusive to saving money
According to Norm Farwell in The New Franklin Register (upstate N.Y.) , we use about
a hundred quadrillion BTUs of energy per year.
Twenty eight percent goes to transporting people and things, 23% to production and manufacturing, and a whopping 49% of
our national energy is consumed by buildings.
The article "One House at a Time: Solving the Energy Crisis" by Norm Farwell, The
New Franklin Register, Vol. VI, No. 3, can be found at
"One House at a Time, Part II" by Norm Farwell, The New Franklin Register, No. 18, can be found at
Cool Roofs help cool the planet
NYC °CoolRoofs is an exciting collaboration between NYC Service and the
NYC Department of
Buildings to promote and facilitate the cooling of New York City's rooftops. Applying
a reflective surface to a roof helps reduce cooling costs, cut energy
usage and lower
greenhouse
gas emissions. Join us as we coat New York City
rooftops to make a greener, greater New York!
Reprinted from

The Week

magazine April 7, 2011:
Energy from an artificial leaf
A silicon "leaf" that mimics photosynthesis could open the possibility of an entirely new source of cheap and abundant
electricity. MIT researchers say they've developed an advanced solar cell the size of a playing card; when floated in even
muddy water under direct sunlight, it splits H2O into hydrogen and oxygen, which can then be transferred to fuel
cells that produce an electric current. Lead researcher Daniel Nocera tells Wired that a single artificial leaf and a gallon of
water could produce a day's worth of electricity for a household in the developing world. There have been previous
attempts to create artificial leaves, but they have often depended on expensive chemicals and proved difficult to
sustain for long periods. What makes Nocera's version different—and scalable—is that it uses inexpensive
materials and can operate for at least 45 hours straight. An Indian company has already signed a development deal,
and a commercial application may be ready in the next three to five years. Nocera is convinced his leaf can bring
affordable electricity to communities without access to power grids. "Our goal is to make each home its own
power station," he says.
MIT News Artificial Leaf
http://web.mit.edu/newsoffice/topic/artificial-leaf.html
Daniel Nocera Explains The Artificial Leaf and Phototsynthesis